THE WADE COTTAGES
In 1929, the Wade family purchased a group of cottages in the quaint village of Siasconset (or 'Sconset) on Nantucket Island. The cottages had been a vacation colony since the 1800's. Members of the Wade family still own and manage the compound and continue to welcome guests. For more than eighty years, they've shared this corner of heaven with friends and relatives, vacationing families, newlyweds, wedding parties, and most recently, those seeking to escape the workaday world for yoga, meditation, writers', or artists' retreats.
Location
The Cottages stand on the 'Sconset bluff, facing due east above the dunes and beach. Just to the south is the village center, which is well known for its remarkable charm. 'Sconset's storied fishermen's cottages, built when the village was settled as a whaling outpost more than three centuries ago, are prized for their historical and architectural uniqueness.
The Wade Cottages are located at 35 Shell Street in 'Sconset. View the map and get driving directions.
We invite you to view our aerial video, shot by Georgi Totev.
The Wade Cottages are located in the nicest part of the beautiful town of Siasconset. Steps from the beach and from the quaint village center. – Guest
Guests enjoy use of our expansive lawn and direct beach access. The guest cottage can be rented from late May through mid October. During July and August, they are rented for a minimum of one week (Saturday to Saturday). Shorter stays may be possible in spring and fall.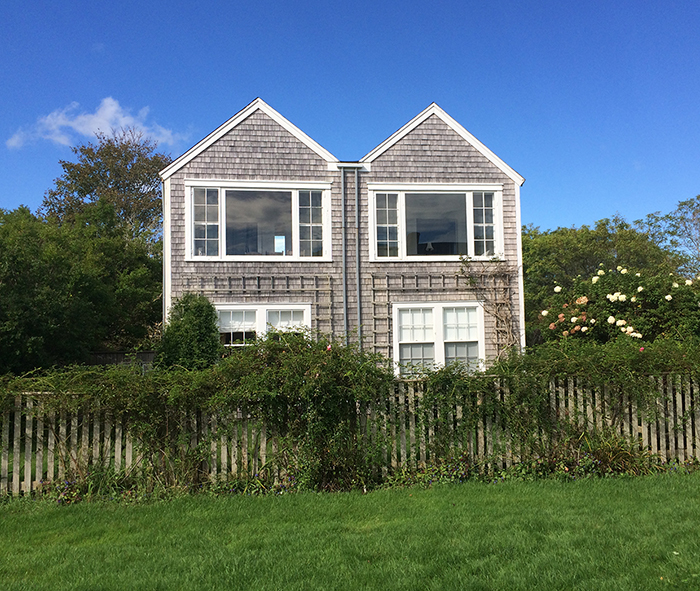 The Guest Cottage has five and a half bedrooms and sleeps up to 13 people. On the first floor, there are two bedrooms that can be made up either as one king or two twins.  Each has its own full bath.  Also on the first floor are a sitting room and a den with television and futon couch that converts to a queen size bed, as well as a half-bath and door to the deck. The living room, dining area, and kitchen are upstairs with striking ocean views. There are also four bedrooms upstairs: one queen, one double, one single, and one king or two twins.  There are one and one-half baths on this floor.
Amenities: washer/dryer, dishwasher, cable television, telephone, WiFi, gas grill, outdoor dining table with umbrella, lounge chairs, house fans and window ACs, beach chairs and umbrella, parking for two cars
See our 2020 rates for the Guest Cottage.
There's just something about 'Sconset and the Wade Cottages that makes you want to slow down and appreciate the simple beauty in life. We are already planning to return for our 10 year anniversary! – Guest
With our spectacular waterfront vistas, spacious lawn, and direct access to the the pristine beach below — all within easy walking distance of the village —  the Wade Cottages are the perfect wedding venue.
Weddings can be held at the Cottages in June and September. The lawn can accommodate a reception tent up to 32 feet in width and 60 feet in length.
Our Wedding Package includes:
Use of the grounds all day Saturday (or another day if preferred) for wedding ceremony and/or reception.
Four nights accommodation in the Guest Cottage, which sleeps up to 13 people. If more space is needed, we can often help secure additional nearby cottages, owned by neighbors, but rental of these is not included in the package price.
Our four-day package generally runs Wednesday to Sunday but may also be available Thursday to Monday. Longer lengths of stay as well as personalized wedding packages may be available upon request.
Package Price: $10,000 for up to 80 guests and $12,000 for 80 to 150 guests.
Please read our Terms & Conditions and see a list of Vendors & Contacts.
We couldn't have asked for a more perfect wedding location – the grounds are beautifully kept, the view is stunning, and the sound of the ocean provides a relaxing soundtrack to the day. – Meghan, Bride
The Wade Cottages compound is an ideal setting for celebrations of all sorts, from family reunions to anniversary parties or fundraisers.
The Guest Cottage sleeps ups to 13 people. If more space is needed, we can often help secure additional nearby cottages, owned by neighbors, but rental of these is not included in a package price.
While the lawn can accommodate a large reception tent, it's also the perfect setting for games of badminton, croquet, touch football, baseball, or soccer.
The spacious living, dining room, and ocean-facing deck of the Main House, available at certain times upon request, are ideal for celebrations of up to 80 guests.
All special occasion packages are customized based on your unique event. Please contact us to discuss a tailored package and pricing.
Please read our Terms & Conditions.
The memories we have from our luncheon at the Wade Cottages will be treasured always. The property is charming with beautiful green lawns and picturesque views of the ocean… What a magical, delightful place for any event! – Johnna, Client
"Here in 'Sconset, between the cranberry bogs and the rose-grown bluffs, is one of the most beguiling villages in the world," observes Holiday Magazine.
Eight miles from the town of Nantucket, 'Sconset is easy to reach by car, taxi, island-wide shuttle, or bicycle. Yet it is far enough to be buffered from the summer crowds. With its own casual and fine dining establishments, general store, liquor shop, post office, movie theater, non-denominational chapel, golf course, tennis courts, yoga classes, beaches, and bluff walks, 'Sconset allows visitors to "stay put," if they so choose.
For those wanting to venture island-wide, Nantucket offers a wide range of activities, including biking, sailing, kayaking, fishing, shopping, and museum-going. There are day camps for children and spas for adults in need of rest and relaxation. The stars in the night sky are spectacular, and the island has its own observatory.
To plan your visit, go to www.nantucket.net, where you'll find everything from bike rentals to box lunches, ferries to flights, and museums to maps.
Contact Details
35 Shell Street
Siasconset, Nantucket, MA 02564
PO Box 211
Telephone: 508.257.1464
Thank you for your interest in the Wade Cottages. We invite you to email us at wadecottages@gmail.com for information on rental availability and all special occasions or retreats.
You can also find us at www.homeaway.com, where we maintain an up-to-date calendar.